everything in/on this page, including the formatting, is subject to change at any time!


TWRP (formerly known as TupperWare Remix Party) is a band from space. The 1980s. The future. Canada... actually, all of the above. Let's rephrase. TWRP is a band from space and the 1980s and the future and Canada. The band is made up of four members: Doctor Sung, the band's frontman in charge of the talkbox, keyboard, and keytar; Lord Phobos, philosophical rocketeer, plant dad, and guitar magician; Havve Hogan, the ancient caveman-turned-cyborg drummer; and he of the dulcet tones, Commander Meouch, a cat-man, jazz-man, and the band's bassist. Despite their interesting style of dress and strange demeanors, they have all proven themselves extremely talented individuals.

So... what do they do? Well, their style of music could best be described as, um... "80s, rock, disco, electronic, funk, and synthwave," according to their tags on their Bandcamp. Their music mainly features themes of positivity, optimism, comedy, and, of course, science-fiction. Their most popular song of all time is, by far, Starlight Brigade, thanks to its feature of Dan Avidan and stunning music video animated by Knights of the Light Table. However, their success is not limited to this; other top songs include The Hit (ft. Dan Avidan), Atomic Karate, The No Pants Dance (ft. Dan Avidan), and Head Up High. It can't be denied that many of their popular tracks owe their popularity to Dan Avidan's presence. However, I believe the value of the music lies more in the talents of TWRP themselves -- incredible instrumentals, composition, and collaboration.
As of February 2023, they sit at 5 albums, 5 EPs, and 1 single, a testament to their ability to consistently produce quality music.


Like I previously mentioned, TWRP's discography currently sits at five albums, five EPs, and one single. While these are not the only releases TWRP have put out in their total history, these are the ones they care to show the public, so others will be discounted, though they are not lost media by any means. In this section, I'll go over their releases in chronological order, starting from earliest public availability! Let's begin in the distant year of 2012...


The Device was released September 25, 2012, according to its Bandcamp page. At the time, TWRP consisted of five members, one of whom is no longer part of the band. The Device had six tracks total, only two of which had any lyrics, a good example of TWRP's older style of instrumental-focused, less lyrically-oriented music.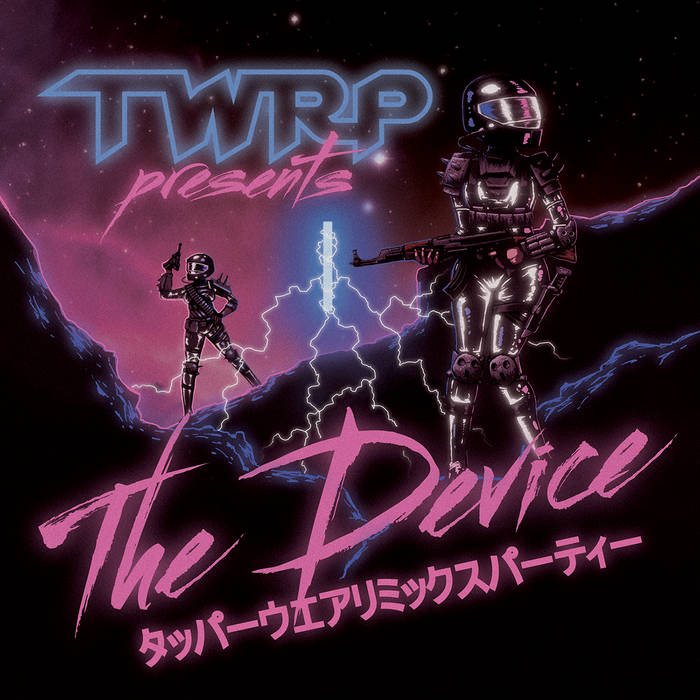 Some may recognize track 04 -- The No Pants Dance -- from one of TWRP's later EPs, Guardians of the Zone. This song was remastered and rewritten in collaboration with the help of Ninja Sex Party in 2016, providing it with more lyrics and a more traditional song structure, along with main vocals from Dan Avidan.
Other songs from this EP have also made reappearances over the years, with Interstellar Strut having been performed in live shows up to about 2017 with additional lyrics......
WM's favorite track: The Device Pt. 1&2
WM's least favorite track: The No Pants Dance
Overall rating: 5/5! Usually no skips on this EP. Definitely one of my all-time favorite TWRP releases. Personally, I'm still hoping for a remaster someday.